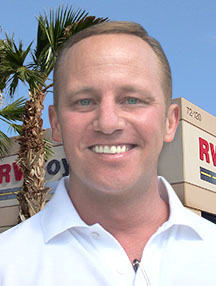 Founded in 1983, RV TOY STORE® offers you truly fun and useful products of the highest quality. Our entire product line is focused on enhancing your RV lifestyle.
In business for 39 years, we offer high-quality, sought-after, imaginative and sometimes, hard-to-find products. We provide fast efficient mail order service and Mobile Campsite Installation™—with friendly customer service and well-informed technical support. We strive to always beat your expectations—and "go that extra mile". We offer top grade products, made in the USA, with genuine Manufacturer Warranties. We provide a 30-Day-Return policy on everything we sell.
We manufacture our own, industry leading SUNGUARD® Branded Custom RV Windshield Covers, Window-Shades, Tire-Savers™, Wiper-Savers™, Mirror-Savers™, Awning-Shades, 5th Wheel Front End Covers and more … with new, innovative SUNGUARD® Shade Products coming out regularly.
In addition to our popular Shade Products, we carry a choice assortment of the industry's more esteemed products; such as, CAREFREE™ Awnings, Custom Dash Covers, CLASSIC™ RV Storage Covers, ROADMASTER™ Tow Bars, TOW-CAR-SHIELDS™, Custom CoachMasks™, ECOTRIC™ Electric Folding Bikes, Folding Ladders, Fire Pits, Grills, Vacuums, Hi-Tech Gadgets and more!
When you're in the Palm Springs area, we come to you (at your home or campsite) and deliver and install the products you love via our popular MOBILE CAMPSITE INSTALLATION™ Service. This is convenient, especially if you're at a campground with no tow-vehicle.
Click here for a list of our Local Desert RV Resorts.
From Hawaii to Maine, Alaska to Florida and even to our neighbors in Canada, it is our continuing pledge to serve you with the finest in RV accessories and personalized customer care.
Thank you for your patronage. We look forward to being of service.
J. Scott Davis
President
RV Toy Store®, Inc.
Palm Springs, California